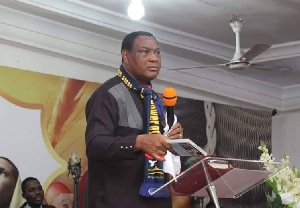 The General Overseer of Royal House Chapel (Ahenfie) has revealed that the locals of Denkyira-Obuasi in the Central region have been cursed following the lynching of a young military officer a few weeks ago.
Major Maxwell Adam Mahama was murdered with broken blocks, cudgels and shot several times by a marauding mob in the Upper Denkyira district following a false alarm that he was an armed robber.

Speaking during a 30-day prayer and fasting event at Cedar Mountain Chapel Assemblies of God Church, East Legon, Rev. Sam Korankye Ankrah pronounced no youth will go past 33 years in the town – the age of Maj. Mahama when he was murdered in cold blood.

Rev. Ankrah, who serves as the Apostle General of the Royal House Chapel International, a church in Ghana with more than 30,000 members, also prophesied that there will be no leader in the town, having killed a commander of an army.
However, Rev. Ankrah, who is the first vice president of the Ghana Pentecostal and Charismatic Council, said the people of Denkyira-Obuasi can atone for their sins with a three-day special fasting led by men of God.

Maj. Mahama was buried June 9, 2017. He was posthumously promoted from Captain to Major by President Akufo-Addo on the recommendation of the Chief of Defence Staff, Lt. Gen. O.B Akwa.