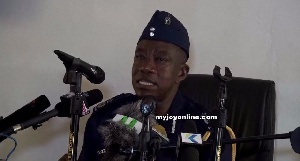 The Ashanti Regional Police Command continue to record a drastic reduction in the number of personnel of the service which is affecting the effective discharge of policing duties, officials disclosed.
COP Ken Yeboah who disclosed this on Kumasi-based Abusua Fm while being hosted by Kwame Adinkra explained that, it is the reason he is unable to deploy personnel to most posts within the region because there is none.

He emphasized that the number keeps decreasing on daily basis with some dismissed for misconduct, others attaining the mandatory retirement age and some dying of natural and unnatural causes which has a tolling effect on the number of personnel to protect lives and property.

According to the United Nations (UN) policing standard, one police person is to 500 people which Ghana has constantly fell short.

As at July 2012, Police-Population-Ratio in Ghana had improved marginally from one police to 976 in 2011 to one police to 847 people in 2012, the report of the 2012 Annual Progress Report of the implementation of the Ghana Shared Growth and Development Agenda, 2010-2013 revealed.
But the Police Chief attributed the continuous decline the years after to the freeze in recruitment by the government which is having a negative toll on the strength.

"Numbers of the police keep reducing daily without replacement. Some are dying, falling sick, going on retirement and others without replacement. We are supposed to provide security for banks and judges but our numbers keep reducing", he lamented.

In his estimation, those currently going through recruitment processes to join the service will be ripe early next year and the hopes they could pass out to augment the shortfall is a long-term measure.

There has been no recruitment in the last 3 years. It will take those going through selection process now up to next year to get a new batch of qualified recruits into the system to augment the numbers", he empathized.