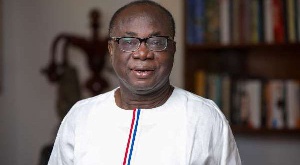 Pollster Ben Ephson has predicted that, the current dispute between Stephen Ntim and Alhaji Short, both National Chairman aspirants of the New Patriotic Party (NPP), will benefit their colleague aspirant Freddie Blay.
Supporters of Mr Ntim and Alhaji Short have been at each other's throat as part of their struggle for power within the governing party.

The NPP is gearing up to elect its national executives who will steer affairs of the party for the next four years. The party over the weekend elected some of its regional executives.

Sharing his views on the polls, Mr Epshon he said on Accra FM' on Monday, 23 April 2018 that: "The presidency definitely has an interest in the elections. As we speak, we all know that the presidency is supporting Alhaji Short."
"Alhaji Short and Stephen Ntim are also feuding, and, so, that feud will benefit Freddie Blay. Freddie Blay is now going to campaign on the heels of the misunderstanding between Ntim and Short."

Speaking on the polls over the weekend, Mr Epson noted that the aggrieved aspirants who secured court injunctions on the polls in some of the regions such as Volta, will automatically be suspended from the party because the NPP's constitution is against that action.