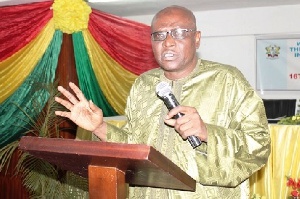 The Electoral Commission has stated it is only the courts that can compel it to rescind its disqualification of the 12 presidential aspirants hoping to participate in the forthcoming general elections.
The chair of the commission, Charlotte Osei, Monday announced Dr. Papa Kwesi Nduom of the Progressive People's Party (PPP), Nana Konadu Agyeman-Rawlings of the National Democratic Party (NDP), Dr. Edward Mahama of the People's National Convention (PNC) and others have been disqualified.

Lawyers of the NDP have served notice they will head to court if the Electoral Management Body fails to restore their candidate.

"...It is in the interest of these that we write, first to demand that our clients are entitled to under the constitution and by law. Our clients also demand that you rescind your purported disqualification and then instate the names of the party's presidential candidate and her running mate on the list of candidates for the 2016 presidential election," the letter read in part.

Also, the PPP's presidential nominee has demanded for a five-minute session with the chair of the Commission to address the circumstances regarding the party's disqualification.
"All I ask for is just five minutes with Mrs Charlotte Osei and the whole issue will be resolved. If not, then we have no option than to go to court," the Groupe Nduom founder told his teeming supporters at the party's headquarters in Accra Tuesday.

Speaking in Tamale Tuesday, the Deputy Chair of the Commission in charge of Operation, Amadu Sulley said the disqualified candidates were given time to rectify the irregularities but failed to, hence the decision of the commission.

That notwithstanding, he said the commission will only reverse its decision and admit the candidacy of Nduom and co should the court demand, maintaining that the commission did not err.

"I tell you my brothers and sisters we operate within the law," said Mr. Sulley but if the court "should come and say Oh! Electoral Commission you erred, what you did was wrong—Mr. A or B shouldn't have been disqualified in accordance with the law, so restore the person, obviously, the commission will not refute the law."