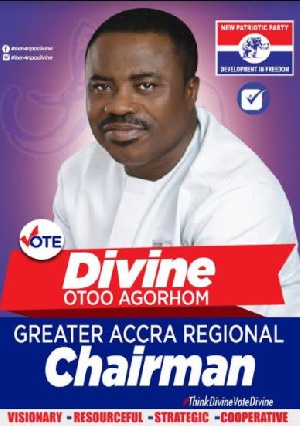 Aspiring Greater Accra Regional chairman of the ruling NPP, Divine Otoo Agorhom, has called on the rank and file of the party to use dialogue in settling post-election disputes.
Speaking with some newly elected executives across the region, Mr Agorhom, stressed on the need that, the party can only be formidable if it is united and all members work for a common interest.

He said, although the election was characterized by few unfortunate disturbances and fictions, he believes the process was largely successful and was free and fair.

He seized the opportunity to thank the newly constituency elected executives and adviced them not to lose sight of the reason for which they were elected.

"Party organization is about grassroot mobilization and support. For you to have emerged victors of the election is an endorsement by the grassroots and believe that you are the right candidates for the job. Do not lose sight of this fact, and make sure you deliver to their satisfaction."

He urged them to begin the process of uniting the party fronts by engaging all past executives, polling station executives, electoral area coordinators as well as unfortunate losers and all party members to settle any pending or emerging conflicts and to work together as one.
He further stressed that, dialogue is the surest way of settling disputes and the only surest way to stay united.

Divine Otoo Agorhom is a three-time parliamentary candidate for the Sege constituency for the NPP and a former 1st vice chairman of the Greater Accra Region. As parliamentary candidate he played an additional role as a member of the regional elections committee for both the 2012 and 2016 and in 2016 He was the ONLY candidate that served on that committee. He also served as a National council member for two terms

Divine is the chairman of COB-A Industry limited, producers of Standard water. He has to his credit, a post graduate diploma in business admin and an Executive Masters in governance and leadership.

As a private business man, he stood his grounds and openly served the party all through the 8 years in opposition, and never hid his support or membership of the NPP.

His financial and logistical support for the NPP is an open secret and he promises to even do more when given the nod to serve as the greater Accra regional chair