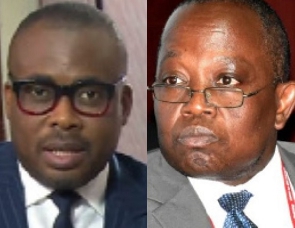 Renowned broadcaster Paul Adom-Otchere has backed the Attorney General and Minister for Justice, Godfred Dame, for his call for the Auditor-General to publish audit reports after Parliament has probed them.
According to him, the Attorney-General is right because Auditor-Generals also end up citing people for infractions in their audit reports but, at the end of the day, courts of competent jurisdiction always find these people not guilty of the crimes they are supposed to have committed.

Speaking during an editorial on his Good Evening Ghana programme on Thursday, Adom-Otchere said that the former Auditor General, Daniel Yao Domelevo, lost all the surcharges he took to court against people he cited for infractions in audit reports.

"Domelevo after the sensation about surcharges, went to court on 11 occasions to surcharge people and he was defeated in all of them, 11-0. He didn't win 1, that is the point of the Attorney General's advise.

"Sylvester Mensah is NDC, Osafo Maafo is NPP they both won against the Attorney General… these facts I'm giving you, there was a meeting called by the new Attorney-General, he brought in Civil Society Organisations and told them this.

"Domelevo was defeated because sensationalism of calling people thieves does not stand up in a criminal court, in a court of competent jurisdiction you cannot just say it (you have to prove it)," he said.

The broadcaster added that the point the Attorney General is making is not that audit reports should not be published but they should be published after they have been probed by Parliament so that people are not wrongly accused.
Background:

The Attorney-General, Godfred Dame, in an opinion regarding the publication on the website of the Auditor Service of an audit into the Government's Covid-19 transactions, advised the Auditor-General to pull down the report and publish it after it has been debated by Parliament and referred to an appropriate committee of Parliament in accordance with article 187(6) of the Constitution.

"The constitutional duty of the Auditor-General to submit his reports to Parliament and Parliament's consequential obligation to debate and scrutinize same will be 'grossly prejudiced' by prior publication of the report," parts of the opinion by the Minister for Justice, read.

Watch Adom-Otchere's remarks in the video below:



Meanwhile, catch the latest GhanaWeb TV Election Desk interview with Francis Addai-Nimoh, as he discusses his plans to become the NPP's flagbearer, below:




You can also watch this episode of People & Places here:



IB/SEA