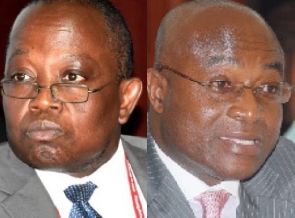 The Majority Leader and Minister for Parliamentary Affairs, Osei Kyei-Mensah-Bonsu, has criticised the recent publication of audit reports before they are looked at by Parliament.
According to him, Auditor-Generals everywhere in the world first submit their reports to the legislature for them to be probed before they are made public, so the people are not wrongly judged by the public.

Speaking in a Neat FM interview monitored by GhanaWeb, Osei Kyei-Mensah-Bonsu added that the former Auditor-General, Daniel Yao Domelevo, was the person who started publishing audit reports before they were probed by Parliament.

"All the Auditor-Generals in the world submit their works to their parliaments." But for our Auditor-Generals, after their investigations, you see them ordering people to pay monies and they release their reports to the public. And they end up tarnishing people's image.

"Mostly, what happens is that after Parliament probes the audit reports, we realise that the auditors did not do their work well and people's reputation has been ruined for nothing. And you see auditors begging people they have wrongly accused.

"These things started during the period of Domelevo. But because of what was happening between him and the government, if you criticise him, people start saying that you are against him. But what he started was not good for our democracy," he said in Twi.

The Majority Leader, who is also the Member of Parliament for Suame, was reacting to an opinion regarding the publication on the website of the Auditor Service of an audit into the Government's Covid-19 transactions by the Attorney-General that advised the Auditor-General to pull down the report and publish it after it has been debated by Parliament and referred to an appropriate committee of Parliament per article 187(6) of the Constitution.
"The constitutional duty of the Auditor-General to submit his reports to Parliament and Parliament's consequential obligation to debate and scrutinize same will be 'grossly prejudiced' by prior publication of the report," parts of the opinion by the Minister for Justice, read.

Godfred Dame, after receiving backlash over his opinion, came out to explain that the Auditor-General is part of the Auditor General's Department, which is part of the Public Services Commission, and the constitution mandates him to offer legal advice to all agencies under the commission.

"… the letter and spirit of laws governing the work of the Auditor-General make him part of the Audit Service of Ghana and, therefore, a regular member of the public services of Ghana to whom the Attorney-General can give advice pursuant to his mandate under article 88 of the Constitution. Article 189(2) of the Constitution provides a clue when it stipulates thus "The appointment of officers and other employees in the Audit Service, other than the Auditor-General, shall be made by the Audit Service Board, acting in consultation with the Public Services Commission," parts of a statement he issued read.

Listen to the interview below:



Meanwhile, catch the latest GhanaWeb TV Election Desk interview with Francis Addai-Nimoh, as he discusses his plans to become the NPP's flagbearer, below:




You can also watch this episode of People & Places on GhanaWeb TV below:



IB/OGB