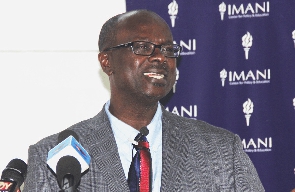 US-based Ghanaian professor and private legal practitioner Kwaku Asare has described the Supreme Court's decision that ousted Auditor-General Daniel Domelevo was unconstitutionally removed as "correct".
The US-based Ghanaian professor, however, thinks the Supreme court could have expedited action on the case instead of the slow pace unlike the swift hearing of University of Ghana lecturer Kpessa Whyte's contempt case.

Commenting on the Supreme Court's decision in a Facebook post, Prof Asare noted: "The Domelevo case required the speed with which the Whyte case was addressed and vice versa."

In a separate post, the US-based professor stated: "The slow track SC is correct in deciding in 2023 that the AG was unconstitutionally removed in 2020."

The Supreme Court ruled that President Akufo-Addo's directive to Mr Domelevo to proceed on a protracted leave, while he was the Auditor-General, was unconstitutional.
Also, the apex court determined as unconstitutional, the president's appointment of an Acting Auditor-General during that leave period.

Following a letter of protestation to the president's 123-day 'proceed on leave' directive, Mr Domelevo incurred an additional 44 more forced leave days in a response from the presidency, making it 167 days, effective 1 July 2020.

Civil society groups and individuals condemned the directive and sought interpretation from the apex court.

One of them was US-based Ghanaian law professor, Kwaku Asare, who sued the Attorney General over the matter.