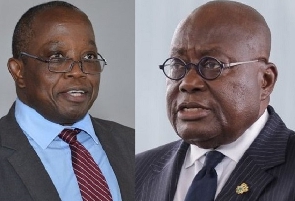 Co-Chair of the Citizens Movement against Corruption, one of the Civil Society Organisations (CSOs) that sued the Attorney General over the appointment of an Auditor-General when one was still in place, Mr. Edem Senanu, has welcomed the Supreme Court (SC) ruling that declared the action of the President as unconstitutional.
Sharing his opinion on the ruling in an interview with the media on Wednesday, May 31, 2023, Mr. Senanu hinted that the court ruling sends a clear message to the executive arm of government that it cannot interfere with the functions of institutions of the state such as the Audit Service.

He insisted that Mr. Domelevo should be brought back; he said, "We need to get Mr. Domelevo and ask him what he wants to do. I guess he has moved on and it may not be a simple thing to say you are turning back the tide of time".

More likely, we are going to look at what we have to do moving forward. The beauty is that it sends a message to the executive branch of government that one needs to be cautious.
When there are independent institutions of state set up as a counterbalance and you begin to influence the decisions of their processes that will not augur well for our democracy, so it is a win for Ghana in terms of the separation of powers and the balance of powers in order to make sure that this country can run well."

When asked whether he and his group feel vindicated by the ruling, Mr. Senanu said "I wouldn't use the word vindication but I would say that we are satisfied that the due process has been followed and that the Supreme Court of the land has ruled that indeed this was a travesty.

"I think civil society was very united on this issue that it was not right for the Auditor-General to have been told to proceed on leave. The manner the whole thing went, it just did not fit well with our legal framework and so we are delighted."