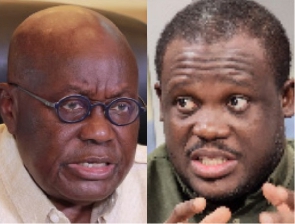 The Member of Parliament for Ningo Prampram, Sam Nartey George, has warned President Nana Addo Dankwa Akufo-Addo against meddling in the passage of the Promotion of Proper Human Sexual Rights and Ghanaian Family Values Bill, 2021 (Anti-LGBTQI bill), which Parliament is currently considering.
In a Facebook post shared on Monday, January 31, 2023, the MP posited that the president and his appointees are giving worrying assurances to Western countries on the passage of the bill.

He urged the president to be loyal to Ghana's Constitution and not Western powers.

"I have followed the rather disturbing assurances your Attorney-General and other appointees of yours have been giving to the Americans, Brits and the European Union. Clap for yourselves.

"May I remind you and your appointees that your fidelity is to the Ghanaian people and the 1992 Constitution of Ghana, not any foreign interest or powers. You owe a duty to uphold and strengthen our existing laws, traditions, norms and cultural values.

"Any attempt to have the government directly or indirectly act to undermine the passage of the Bill my Colleagues and I are sponsoring when Parliament resumes would be akin to a fatal self-inflicted death knell on your government. This is a solemn promise I make to you on the Constitution of Ghana. We would mobilise all right-thinking Ghanaians to remind you that the power of the people is greater than the people in power," parts of the MP's post read.

Sam George warned the president not to let the West impose LBGTQI activities on Ghana just because they offer him solutions to the country's economic challenges.
The MP for Ningo Prampram and eight other MPs sponsored the anti-LGBTQI bill.

People of the same sex who engage in sexual activity could spend up to 10 years in jail if the bill is passed.

View the MP's post below:



IB/DA