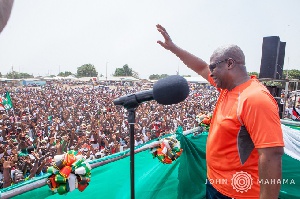 Former President John Dramani Mahama has urged Ghanaians not be deceived by flagbearer of any party who comes begging them to try him by voting for him to become President of the Republic of Ghana.
The former President was addressing NDC supporters during the party's Unity Walk in the Ashanti regional capital, Kumasi on April, 28, 2018.

He indicated the economic situation is getting worse day by day because Ghanaians voted for a "Try Me flagbearer" during the 2016 general elections.

President Akufo-Addo, then the New Patriotic Party (NPP) flagbearer, during his campaign appealed to Ghanaians to "try him" by voting him into office in the 2016 general elections.

According to former President, the National Democratic Congress (NDC) is a tried and tested political party and, therefore, has shown what it takes to rule a country.

Mr. Mahama said Ghanaians were influenced by the NPP's watery campaign promises and voted massively for their flagbearer to win the 2016 election, a reasoncitizens are now suffering under Akufo-Addo's government.


The former was convinced the NDC as a political party would recapture power come 2020.

"The economic condition is worst under NPP government. Many Ghanaians have told me they cannot afford to buy several commodities," he said.

The former President also spoken about illegal miners saying, there is need for the government to put measures immediately to regulate the mining laws.

He advised government to regulate the country's laws and provide jobs for young Ghanaians.