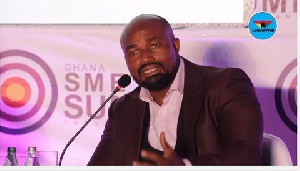 Chief Executive Officer of McDan Group of Companies, Daniel McKorley has sounded a word of caution to entrepreneurs about setting up their businesses.
According to the Ghanaian business mogul, the most prudent approach to maintaining a long-lasting structure is to set up in such a way that it will outgrow tenures of politicians, withstanding their interferences.

He advised that taking a robust approach will shield the business from a sudden collapse when there is a change in government. He noted that even if the owner of the firm is a politician, managers need to put in place substantive measures which will outlive the relevance of the politician.

"Immediately you build your system and the structure, you become immune and you get above [sudden collapse]. That is what is collapsing a lot of businesses.

You have to build your business on a very strong foundation.

If you revolve your business around politics you will collapse it. A politician cannot collapse your business. You should be able to build your business to [rise above] politics."

Mr. McKorley's comment comes at a time when the owner of one of the businesses at the Ghana Trade Fair Centre enclave in Accra, had his structure demolished; an action the latter described as politically motivated.
Speaking on the Joy FM Super Morning Show Tuesday, he emphasised that although he is an empathizer of the incumbent NPP, he is able to separate business from politics.

"This party [NPP] is my party. We all have to support one political party or the other.



We all political animals…but the business environment has to be able to separate itself from politics. Immediately you mix the business environment with politics you are losing it. Because, if you ask me, the government is the biggest spender. You have to work smart, he added.

Raymond Archer, publisher of Enquirer newspaper and Chief Executive Officer of Universal Labels & Packaging Co. Ltd, as well as Colour Planet Limited, insists that his business, as well as other businesses situated at the premises of Ghana Trade Fair Centre, were demolished based on party affiliations.

In a six-page response to the management of the Ghana Trade Fair Company Limited (GTFCL), Mr Archer indicated that prior to demolishing businesses at the Trade Fair, the CEO met with some few tenants based on party affiliations and "others including Colour Planet Ltd and the rest were not even given the chance to meet with the CEO".