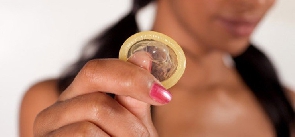 Celestine Asante, the Kwahu West Municipal Health Director, has advised revellers taking part in Kwahu Easter events to participate in safer sex practices.
She explained that safer sex not only avoids unintended pregnancies but also sexually transmitted infections such as HIV/AIDS.

She added on Rainbow Radio 87.5Fm's Nyankonton Mu Nsem that women, in particular, should insist on using condoms if they want to have sex.

"If it's not on, it shouldn't be in," she replied. You should take precautions. You will only be in Kwahu for five days. Allowing a fling with someone to ruin your life is not a good idea. The majority of what you'd find in Kwahu would be a fling. It will not result in any meaningful relationships. So, as a woman, pack some condoms in your suitcases to be on the safe side.

Some of the males you may meet in the neighbourhood will not return your phone calls after having sex with them, so always insist on using a condom. Condoms are not prohibitively pricey. I'm not advocating sex, but you should get condoms so that when you go out, you can use them if you want to have sex.

She went on to say that some children are born as a result of their moms' unplanned sex and that the fathers are not even held accountable for these "bastards."
"Some of these sexual encounters may result in unplanned pregnancies, and when the children are born without adequate financial support, they become a burden to society." So I want to emphasise to women in particular that they must defend themselves."

According to her, the Kwahu Easter activities have become a major tourism project, bringing together people from both home and abroad to celebrate.

"It's fun to have a good time. But you should be measured. Be cautious and aware so that you do not make a decision that puts you in danger of developing a sexually transmitted disease."

The medical officer also stated that, in comparison to last year, they were unable to obtain enough condoms to distribute.

However, the directorate she revealed is launching a series of efforts to encourage individuals to get Covid-19 immunisation.