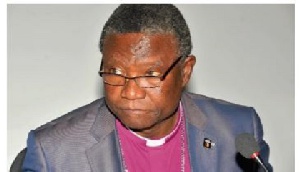 The additional six new regions created by the Akufo-Addo-led government will bring the needed development in those areas but authorities must guard against corruption as it can whittle away the possibility of those developments, Rev Prof Emmanuel Asante, Chairman of the National Peace Council has warned.
Prof Asante further called on the government not to concentrate its developmental agenda in only the regional capitals but decentralize development for the benefit of all the people in the region.

Speaking to Benjamin Akakpo on the Executive Breakfast Show (EBS) on Class91.3FM on Thursday, 28 February 2019 Prof Asante said: "Creation of the new regions will definitely bring development."

He explained that: "It will bring development in the sense that the new regions will have regional ministers, they are going to have their staff and all sort of things…but I'll say that development should not be concentrated on the capitals.

"You need decentralisation of planned development in these regions. I don't see why if the capital is at Goaso, the regional hospital must be at Goaso and everything must be at Goaso.

"Development should be distributed to the various centers like Bechem, Duayaw Nkwanta, Kukuom and all these places so that all will have their share. Once that is done, there will be decentralised development and I'm sure that the people will benefit a lot…


"So these regions will definitely bring the development that is needed in those areas. My only prayer is that we'll be truthful and honest and not allow corruption which is the bane of African countries to whittle away the possibility of development in those places."

The creation of the new regions was a campaign promise of the New Patriotic Party (NPP) during the 2016 elections.



After the NPP won the polls, a Commission of Inquiry, headed by a retired Justice of the Supreme Court, Justice Stephen Brobbey, was instituted to ensure the creation of the regions.

Accordingly, Oti, Bono East, Western North, Ahafo, Savannah and North East regions were created.