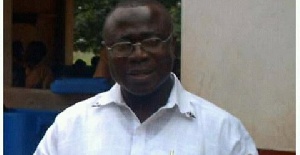 A founding father of the New Patriotic Party, Dr. Amoako Tuffuor has strongly distanced himself from the scandal at the Metro Mass Transit Limited.
According to him, he has nothing to do with the ongoing unrest at the transport company adding that any attempt to link him to claims of financial malpractices at MMT will be very mischievous.

"I Dr. Amoako Tuffuor has nothing to do with MMT, I don't do business with them and I am not doing business with them…I don't know the workings of MMT and if someone tries to bring me in, that person is being mischievous," the NPP stalwart told Francis Abban on Morning Starr Wednesday.

Dr. Amoako Tuffuor has been accused of bribery by a worker of MMT, known as Lawal.

According to Lawal, Amoako Tuffuor and the Managing Director of the MMT, Bennet Aboagye attempted to bribe him with GHc40, 000 after he confronted the MD with evidence of his alleged corrupt activities.

Mr. Aboagye has also been accused of breaching several procurement laws in the acquisition of some 300 buses since taking over the company over a year ago.
The union staff of the transport company on Tuesday petitioned the Transport Minister to demand the removal of Mr. Aboagye for full scale investigations into his alleged corruption and procurement breaches.

A petition presented to the Special Prosecutor Martin Amidu, against Mr. Aboagye and the Board Chairman Ahmed Arthur stated that the MD and the board chairman had engaged in several financial malpractices and breached several procurement laws.

But commenting on the development, Dr. Amoako Tuffuor said the money was only paid to Lawal so they could trap him and retrieve an audio recording of Mr. Aboagye, Lawal claimed he had.

Dr. Amoako Tuffuor claimed that they failed to engage the police from the on set because they didn't want the police to delay the process in retrieving the alleged audio recording.