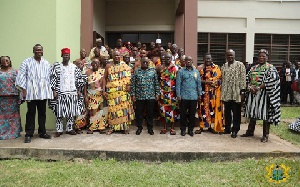 President Nana Akufo-Addo has urged chiefs and queen mothers in the country not to be afraid of discarding traditions that do not fit into modern times, current realities and norms, making particular reference to practices that seek to discriminate against women and children.
President Akufo-Addo noted that recent cases involving the defilement of children have become a cause for concern and "such cases cannot be treated as 'family matters'".

Furthermore, he indicated that: "It is difficult, for example, to find a scientific, legitimate reason why children should be given tiny pieces of meat or fish, when children need more protein than adults. It is difficult, again, to find a justification for some of the widowhood rites that persist, today, among many of our peoples. I urge you to be in the forefront of fighting to discard those outmoded practices, which should have no place in the Ghana of the 21st century."

Again, he cited instances where youths take the law into their own hands, vandalising properties adding "it can no longer continue, and must be condemned by all".

He told the chiefs "perpetrators of such acts must be handed over to the law enforcement agencies for the laws of the land to take their course. Senior citizens should not be seen to be making special pleas for such perpetrators".

Aware that the constitution of forbids chiefs to engage in partisan political activity, Nana Akufo-Addo noted that their involvement in the public life of the country derives naturally from their position as traditional rulers.
It is, thus, his hope that members of the National House of Chiefs will help set the tone in their areas of influence to help realise government's vision for a prosperous and progressive Ghana.

"I would, therefore, appeal to you to lend your voice in support of the regional and local government reforms being undertaken by my Government, i.e. the creation of new regions, in accordance with popular aspirations; the direct election by their people of Metropolitan, Municipal and District Chief Executives; and creation of new districts and the upgrading of some existing ones into municipalities. Government is determined to bring governance closer to the people, and expand the boundaries of democracy in our country," the President stated.

He continued, "We are counting on you to help shape and integrate yourselves into these developments, so that the peculiarly Ghanaian contribution to the concept of governance, which emanates from the integration of royal, aristocratic institutions into the fabric of a republican, democratic framework, will be enhanced and strengthened to the benefit of the Ghanaian people."

Urging the membership of the National House of Chiefs to speak out and join government's fight against the ills of society – corruption, social and economic injustice, crime – the president reminded them also about the fight against the illegal mining menace, popularly referred to as galamsey.

President Akufo-Addo noted that the country has gone through a lot of difficult times in recent years, and it has meant that some people have had to find ways and means to keep body and soul together, and, as a result, engaged themselves in illegal activities, such as galamsey.
"As Chiefs, you have a responsibility, as was done in the days of our forefathers, to help preserve our lands, water bodies and environment. We all have a responsibility to say no to galamsey for our own common survival and the survival of those who are to come. If we allow it, we are jeopardising both our present and our future. Our responsibility in this is clear," he added.

In asking them to speak out, President Akufo-Addo urged the chiefs not to fall into the well-known temptation of telling him what they think he should hear.

"It would be equally tempting to tell me that I am the best thing that ever happened to Ghana, and it would be even more tempting to tell me to ignore my critics. I expect that, as our esteemed Traditional Rulers, you will not go down that road, but will allow the moral authority of your status to justify your interventions," he added.