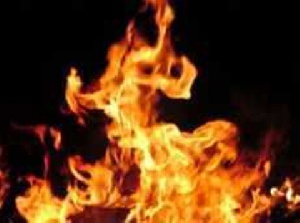 A driver of an Opel Vectra taxi cab, Edmond Sarfo and two passengers on board luckily escaped death when the vehicle unexpectedly caught fire in front of the Sunyani Technical University (STU).
According to Sarfo, aged 26, he picked the passengers from the central business district of Sunyani towards Abesim, a suburb in the Sunyani Municipality.

But on reaching the second gate of the STU around 1630 hours, smoke started coming from the dashboard, which instantly resulted in a flame that completely burnt the vehicle".

He lamented the vehicle with registration number GT 1596-S was in good condition when the unfortunate incident occurred.

When the Ghana News Agency (GNA) arrived at the scene, a team of six fire personnel from the Sunyani Municipal Station of the Ghana National Fire Service were in the process of extinguishing the fire but it took more than 15 minutes for them to bring it under control.
The driver who appeared visibly and emotionally shocked and wondered why such a calamity should befall him explained that they forcibly broke the doors and jumped out when they saw the smoke before the vehicle exploded into flames.

He bemoaned in an interview with the GNA that "I took the car only today after the owner had fueled it to start work for the first time, only for this tragedy to hit me, my fate now is in the hands of the almighty God, my creator".

None of the fire personnel was ready to speak, saying that they were yet to conduct investigation into the cause of the fire.