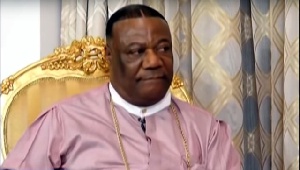 The founder and general overseer of the Action Faith Chapel International, Archbishop Nicholas Duncan-Williams, has jumped to the defense of Joseph Siaw Agyapong, the chief executive officer of Zoomlion Ghana Limited.
According to Duncan-Williams, Agyapong has become the subject of constant attacks by successive government's because of envy and jealousy.

He therefore advised Ghanaians to desist from destroying local businesses as it brings no useful rewards.

Preaching on Sunday, September 1, 2019, he explained that Ghana's political system appears to be designed to enhance jealousy and envy.

Per a report by myjoyonline.com, he added that the Ghanaian society takes delight in bringing people down.

This, he revealed, is in contrast to the situation in countries such as Nigeria, where support systems are created for businesses.
The man of God went on to say that foreigners have taken over business spaces in Ghana because the government encourages the foreigners to prosper.

He expressed worry that after 60 years of Ghana's independence, no local bank has succeeded in making it to the international market.

In other news, a deputy minister of Information, Pius Enam Hadzide, has revealed that the Mahama-led administration handed over a police service that was under resourced.

He added that Mahama's government failed to provide the necessary equipment for police officers.

According to him, the police service has been unable to organize retraining for its officers for a very long time.