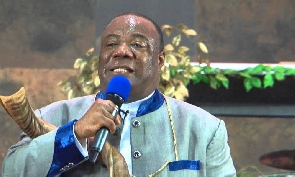 Celebrated sports journalist and commentator Kwabena Yeboah has praised Archbishop Nicholas Duncan-Williams, the presiding Archbishop and General Overseer of the Action Chapel International (ACI) ministry, for "revolutionising" Christianity in Ghana and making it attractive to the youth.
Speaking in an interview with Black Rasta on the Urban Blend show on 3FM recently, Mr Yeboah lauded the Archbishop for changing the conservative nature of the Ghanaian Christianity which denied many a place in the church and winning many souls for Christ.

"Let me zoom in to somebody like Archbishop Duncan-Williams. You know the credit I give him? He revolutionised Christianity in this Country. Before he burst onto the scene, Christianity was very conservative. so you had to dress in a certain way.

"And young people didn't think that they had any business following Christ. For example if you had a permed hair in those days, you were not accepted into the church; if you had your nails painted; if you were in trousers [you were not accepted into the church.] But he revolutionised Christianity [ and got all those persons accepted into the church]," he eulogised.
Archbishop Nicholas Duncan-Williams gave his life to Christ in 1976 and after training to be a pastor in Nigeria, he founded his church in 1979, the first openly Christmatic church in the country.

Mr Yeboah also praised Evangelist Bishop Dag Heward Mills, founder and presiding bishop of the United Denominations Originating from the Lighthouse Group of Churches (UD-OLGC, formerly Lighthouse Chapel International), for his pioneering role in Ghanaian Christianity.