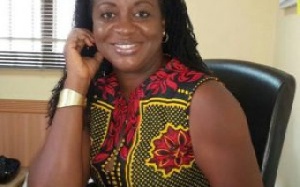 Political communication expert, Dr. Eric Opoku, has expressed doubt that former beauty queen Brigitte Dzogbenuku will improve the electoral fortunes of Dr. Papa Kwesi Nduom and the Progressive People's Party (PPP) in the December polls.
Dr. Nduom, the party's flagbearer announced Ms. Dzogbenuku as his running mate on Thursday, August 4.

In an interview with Class News shortly after the announcement, a founding member of the PPP, Mike Eghan, said the running mate has what it takes to better the results of the party in the December polls.

"The calibre of person that she is, with her knowledge and experience in dealing with people, we think we can make inroads not only in the Volta Region but throughout Ghana. She has a message, she has a style, and she has a personality to attract people to be part of what we are trying to do in Ghana …" he stated.

However, Dr. Opoku, speaking with Class News, insisted the former beauty queen's achievements were not good enough to make the PPP a formidable force in the elections.
"I think that having a woman as a running mate at this point in time is significant but now I think what is more important is that any choice any political candidate makes is supposed to bring about a huge political capital for the party and I'm really wondering whether she being a woman and she coming from the Volta Region are significantly viable to contribute to Papa Kwesi Nduom's chances. You ought to have contributed largely to larger causes in terms of our own politics and all of that.

It takes a long time for people to accept you and I think that what she has done in view of her own private life and work is not enough.

So, she being a person who is not corrupt, I don't think is enough to bring a lot of strength to add to Papa Kwesi Nduom's position as the flagbearer," he said.