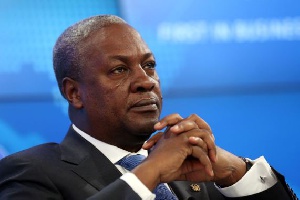 Former President John Dramani Mahama has said the nomination of Jean Mensa to the vacant position of the chairperson of the Electoral Commission (EC) is "regrettable."
Again, he stated the nomination has the potential to "erode Ghana's democratic credentials" in a Facebook post, Tuesday, July 24.

President Akufo-Addo on July 19 announced Mrs Mensa who is the Executive Director of the Institute for Economic Affairs (IEA) as the chairperson-nominee of the EC.

She is to replace Charlotte Osei who was removed with her two deputies – Amadu Sulley and Georgina Opoku Amankwah – by the President following recommendations by a committee set up by the Chief Justice to probe a petition against them.

Mrs Osei reportedly breached procurement laws in the award of several contracts, prior to the 2016 elections.

A statement announcing the nominations of Mrs. Mensah and three others dated July 19 and signed by the Chief of Staff Frema Opare said the President after seeking the advice of the Council of State in accordance with Article 70(2) of the constitution nominated Mrs. Jean Adukwei Mensah — Chairperson, Mr. Samuel Tettey — Deputy Chairperson,. Dr Eric Asare Bossman — Deputy Chairperson, Ms Adwoa Asuama Abrefa — Member of the Commission.
According to the letter, the "President Akufo-Addo is hopeful that the Council of State will discharge its constitutional duty expeditiously, to enable him to make these critical appointments to this very important institution of State."

Even before the former President who is Harare as head of the Commonwealth Observer Group to monitor Zimbabwe's elections slated for July 30, the National Democratic Congress (NDC) slammed it as "indecent" and "senseless."

"We are shocked because until this appointment the president had given assurance to the nation that the persons to be appointed into the Commission would be persons whose integrity and political neutrality would be above board," bemoaned the largest opposition party in a statement Monday.

The statement signed by the General Secretary of the NDC Johnson Asiedu Nketia added "for President Akufo-Addo to proceed contrary to his earlier assurances to appoint a known pro-NPP and an avowed anti-NDC person like Mrs. JEAN MENSA to chair a commission which would organize elections involving the NPP and NDC as the main contenders defy all senses of decency, fairness and justice and amount to a gross abuse of the discretionary powers of appointment vested in him by the Constitution of the Republic of Ghana."