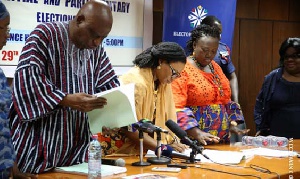 The Electoral Commission of Ghana will today announce presidential nominees who have fulfilled all legal requirements and qualified to contest in this year's 2016 elections.
A total of 17 persons filed to contest in the elections on December 7.

Fifteen of them are representing political parties while two are seeking to contest as independent.

The nominees submitted their forms on September 29 and 30 at the Electoral Commissions headquarters in Accra without the required GHC50,000 fee due to a court action that restrained the EC from collecting same.

The nomination forms submitted by the parties The interlocutory application for injunction was instituted by the Progressive People's Party to prevent the Commission from receiving the amount in bank draft until the final determination of a substantive matter challenging the legality of the amount.

But the Accra High Court on Friday, October 7 dismissed the interlocutory application, prompting the EC to demand the fees.

All nominees were subsequently directed to submit the amount on Monday, October 10.
TV3's Jonathan Adams who is at the EC office reports Monday morning that three of the nominees – Akua Donkor of the Ghana Freedom Party; Kwesi Osei Odike of the United Progressive Party and Nana Agyenim Boateng of United Front Party – had by 8:00 am showed up at the EC to present the fee.

He reports that the other nominees are also expected to present their fees either personally or through their officials.

"The Commission is also expected to announce the qualified aspirants today. Not all the 17 presidential aspirants who filed nominations will sail through," Jonathan reports.

He added: "The disqualified aspirants will not be allowed to submit their bankers draft of GHC50,000 filing fee," "That of the parliamentary will be done at the Commission's district offices" Our correspondent explained.

The Commission on September 30 received the filing fee of the Progressive People's Party, notwithstanding the pendency of the suit at the time.

The EC later explained it thought the PPP had withdrawn the action when it added the draft to the nomination forms.