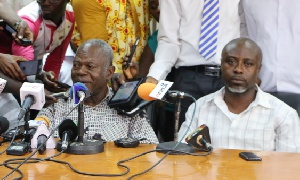 The presidential nominee of the Convention People's Party (PNC), Dr. Edward Mahama although appears bitter after being disqualified by the Electoral Commission, he believes the EC is on course to build a strong institution.
The EC's move, he told journalists, is in line with his crusade to put strong institutions and systems in place under his administration. Dr. Mahama together with some national executives of the PNC was at the EC's office to submit his nomination forms after he had made corrections to them.

He and 11 others were disqualified by the EC on October 10, 2016 because of errors the Commission detected on their nomination forms. The electoral body was embroiled in legal battle with various disqualified nominees after that mass disqualification.

The Supreme Court sort of brought finality to the raging legal war when it ruled and ordered the EC to extend the nomination period two days more to afford those it disqualified the opportunity to rectify the anomalies on their forms. Dr. Edward Mahama was therefore at the Commission on Tuesday to take advantage of the court orders.

He does not seem to agree with his colleagues who have lambasted the EC and its chairperson Charlotte Osei after their disqualification. "Those of you who have been following my political career will understand that since 2004 I have been insisting that we build strong institutions with systems in those institutions that work for every Ghanaian.
"And so when the EC flexed their muscle this time, I understood it in that direction that they are trying to build a strong institution, a strong system." But Dr. Mahama was one of the candidates who went to court to get their disqualification quashed. The various proceedings at the High Court have been suspended due to Monday's ruling by the Supreme Court.

He would not talk about the substantive case with the EC that is in court, trusting that submitting the corrected forms would bring everything to an end. "I think the EC has an odious task because this election, there is a lot at stake, and PNC and I when we presented our forms a month ago, pledged our support for the EC; so far as they are doing their work well, we will support them," he maintained.

This is the fifth time Dr. Mahama wants to contest as a presidential candidate. Although he said the disqualification slowed his campaign down and "disadvantaged" his team, he is counting on his experience and as a known political face to win the 2016 elections.