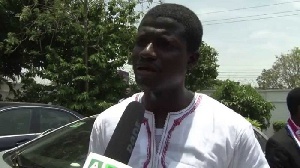 Pressure Group Let My Vote Count Alliance (LMVCA) has accused the Electoral Commission (EC) of Ghana of unethical practices; therefore, it is not out of place for persons threatening legal action to go ahead with a suit.
Convener for the group, David Asante indicated that the LMVCA was not surprised that some individuals were threatening legal action over the EC's failure to extend the just-ended re-registration exercise because the EC had been dishonest and acted without the interest of citizens.

In the opinion of the pressure group, the commission premised the exercise on what they described as fictitious figures on the number of National Health Insurance Scheme (NHIS) registrants and challenges were bound to occur.

Only 34,000 out of the nearly 57,000 voters whose names were deleted from the register on the orders of the Supreme Court because they used their National Health Insurance Scheme (NHIS) cards to register, could re-register during a 10-day registration exercise conducted by the EC.

Ashanti Regional Secretary of the NPP Sam Pyne had indicated that the period must be extended and revealed that the party would present an official petition.

He held the view that many people would be disenfranchised if the EC refused an extension, but the EC has stood it grounds indicating that the re-registration period will not be extended.
Commenting on the issue on Class FM's Executive Breakfast Show on Monday August 1, Mr Asante told the host, Prince Minkah, that: "The EC told a lie, faked and forged the names…the end can never be justified when the means is unethical and full of lies. The whole foundation of the generation of these 56, 000 names were on pure lies and so you do not expect the final conclusions to be a smooth one. The NHIS list that was generated contained car numbers and the whole nation kept quiet."

Private legal practitioner and member of the National Democratic Congress (NDC) Abraham Amaliba is, however, questioning why LMVCA failed to help the EC correct any anomalies they claimed they identified.

"The Supreme Court asked those speaking and saying the EC did not provide accurate names to do so. I did not hear them again. Those contesting are supposed to provide the counter-information for the Supreme Court to authenticate but they failed to do that," he noted.

Meanwhile, pollster Ben Ephson has also advised the Member of Parliament for Effutu, Alexander Afenyo-Markin, to go ahead, if he wishes, to sue the Electoral Commission (EC) over his (Afenyo-Markin's) allegations that the election management body removed over 5,000 names of voters from the electoral roll in strongholds of the New Patriotic Party (NPP) in his constituency under the guise of ridding the roll of persons who wrote their names using NHIS cards.