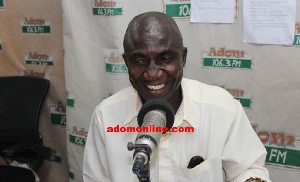 The Electoral Commission (EC) of Ghana is not a tax collector to be charging astronomical filing fees for presidential and parliamentary elections, Mr George Boateng, a member of the National Democratic Congress (NDC) and vice-presidential aspirant in the 2016 polls, has said.
The filing fee for presidential aspirants is GHS 50,000 whereas that for parliamentary aspirants is GHS10,000. Already, the Progressive People's Party (PPP) has sued the EC over the fees.

Submitting the form on behalf of his boss Lawrence Kutin, who is seeking to contest for the presidency as an independent candidate, Mr Boateng said: "The amount is ridiculous and uncalled for. The EC is not a revenue collector and there is no law that tells the EC to charge such amount. We are first [time contenders] and the law allows us to go without paying anything to them, and I am talking about the PNDC law."
Class91.3FM's Kwesi Parker-Wilson, who was at the headquarters of the EC, said Mr Boateng requested to meet the Chair of the EC in person to have a brief meeting with her before submitting the forms but got furious and refused to submit the forms when his request was declined.