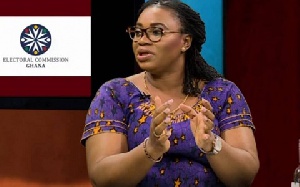 The petitioners who triggered the removal of Charlotte Osei as the Chairperson of the Electoral Commission (EC) are to invoke the office of the special prosecutor against the beleaguered former EC boss.
Mrs. Osei and her two deputies — Amadu Sulley and Georgina Opoku Amankwah – were sacked from office by President Akufo-Addo last month.

Their dismissal was after the Committee set up by the Chief Justice, Justice Sophia Akuffo, pursuant to Article 146(4) of the Constitution, to investigate separate complaints brought against the three persons by Ghanaian citizens, recommended their removal from office.

The Committee recommended their removal on the basis of stated misbehaviour and incompetence, pursuant to Article 146(1) of the Constitution.

In her first public reaction to her removal from office, Mrs. Osei said posterity will vindicate her performance as chair of the commission.
Addressing a press conference Monday in Accra, one of the petitioners, Rabiu Sulemana, described as great relief the dismissal of the former EC Boss.

That notwithstanding, he said, the fight for probity and accountability in the activities of Mrs. Osei "at the Commission is by no means over" and that the grounds for which she had been liable by the CJ committee are also grounds for which she can also be prosecuted.

"The public procurement act 2003, act 663 is very clear on this [and'] in this regard, we are making preparations to submit these complaints to the office of the Special Prosecutor for investigations and possible prosecution of Mrs. Charlotte Osei," he stated, adding, "we shall leave no stone unturned in our quest to ensure that she faces the full effects of the law for which she gleefully breached with wanton recklessness."

In addition to submitting the grounds which formed the basis for her dismissal in the CJ committee's recommendation, he further pointed out that "we are also prepared to submit to the special prosecutor complaints and evidence of her dealings with other companies and individuals which we deemed to amount to abuse of office, breach of trust and conflicts of interest."