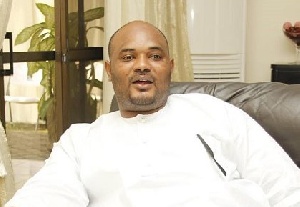 The Electoral Commission (EC) of Ghana was not serious with the re-registration of persons whose names were deleted from the register of voters for using National Health Insurance Scheme (NHIS) cards to register onto the roll in 2012, Mr. Abu Ramadan, former National Youth Organiser of the People's National Convention (PNC), has said.
The re-registration of the voters, which came to an end Thursday July 28, was in accordance with an order by the Supreme Court of Ghana to the election management body to delete the names because the use of the NHIS card as a means of identification was unconstitutional.

On Friday July 29, the EC announced at a press conference addressed by its Director of Communications, Eric Kofi Dzakpasu, that at the end of the 10-day re-registration exercise, only a little over 24,000, out of the over 57,000 NHIS voters whose names were deleted, were re-registered, an indication that over 33,000 'NHIS voters' have been disenfranchised as far as this year's general elections are concerned.

He added that in spite of the low turnout, the election management body had no plans to extend the period for the re-registration, which came to an end on Thursday July 28.

"…It cannot be the case that the low turnout was caused by low publicity. The message was well disseminated; if people actually wanted to get registered, they could have done so within the 10 days.

There is no evidence that when an extension of the date is granted, the remaining people will come out of their houses or communities and get their names re-registered. In the considered opinion of the [Electoral] Commission, the re-registration exercise could not be extended.

Apart from the fact that the exercise was extensively publicised, the decision not to extend the exercise has been informed by a number of additional substantive reasons," Mr. Dzakpasu said.
But speaking in an interview with Naa Dedei Tettey on Class91.3FM's mid-day news Friday July 29, Mr. Ramadan, who was the plaintiff that initiated the case, said: "This is surprising. [I am] disappointed and dismayed by the position of the Electoral Commission.

I don't know why the commission will want to take such a posturing to want to suggest that by virtue of the fact that if they extend the exercise, it will bring about apathy…and for that matter they didn't have a budgetary allocation for this exercise.

"That should tell you how unserious the commission has taken the entire court process, because if you are exhibiting, you are undertaking an exhibition process all over the country and you are exhibiting the register of voters and you say, 'I want to use the period of the registration as basis to clean the register and give the opportunity for people to be reregistered' and you do that and you say out of the 21 days for the exhibition you are using only ten days to re-register persons and say you don't have money.

I don't seem to understand what the commission means by that because I would expect the commission to do the registration for 21 days, the re-registration for 21 days, and give ample time because persons who have not registered as it stands now, we can say some have not been notified, we can say some don't even know their names were deleted, you can say some have travelled.

We can assign so many reasons to the reason why some persons have not been re-registered, but is this the solution?"