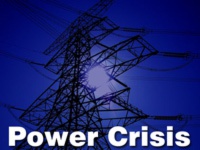 Sun, 20 May 2007 Source: GNA
... for unscheduled power outages
Accra, May 20, GNA- The Electricity Company of Ghana (ECG) and the Volta River Authority has apologised to Ghanaians and its customers for the unscheduled power outages experienced in recent times.

The two organisations in a statement said the VRA "has been encountering technical problems at the Aboadze Thermal Plant, resulting in unplanned or unpredictable outages."


The statement, signed by Mr. A T Baafour, Director of Operations of

the ECG, on behalf of the two organisations, gave an assurance that urgent actions were being taken to resolve the problems so that the planned National Load Management Programme could be stuck to.


"We would like to appeal to our customers to bear with us during theses difficult times," the release said.

Source: GNA