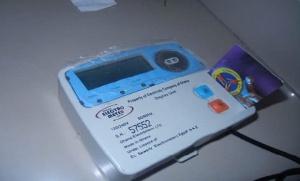 Mr Delali Oklu, General Manager of the Electricity Company of Ghana (ECG), Volta Region, said the Company will be extending prepaid metres to all its customers in the Region.
He said though the venture was expensive, they were in talks with management to consider covering the rest of the region as only two out of its eleven districts had been roped onto the system.

Mr Oklu speaking in an interview with the Ghana News Agency on the side-lines of the ECG Customer Open Day in Hohoe, said though some customers were not totally satisfied with the prepaid service, it was the best way to go in consumption management.

Customers who thronged the Hohoe Municipal Assembly hall complained that the new electricity tariff reduction of 17 per cent was not reflecting in their consumption.
Some complained about slow network connectivity when purchasing credit from ECG vendors.

Officials of ECG explained that the 17 per cent reduction was a reduction in energy consumption charges and not service charges, therefore, may not bring effect some may expect.

They acknowledged challenges with internet connectivity and assured that measures were in place to improve service delivery through its ICT directorate.