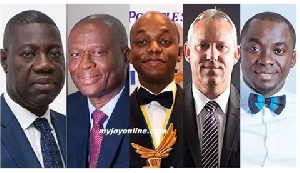 The Bank of Ghana (BoG) has disclosed that "people have been invited by EOCO (Economic and Organised Crime Office)" for questioning in relation to the collapse of some five local banks.
Newly-established Consolidated Bank Ghana Limited was recently forged by the BoG by fusing together five struggling local banks – uniBank, Sovereign Bank, Construction Bank, The Royal Bank and Beige Bank.

Mr Osei Gyasi, Head of Banking Supervision at BoG, disclosed that relevant information including names of some individuals responsible for the collapse of the five banks has been submitted to EOCO.

"If you are aware that EOCO has invited some people, certainly that couldn't have been done without a report," he told Accra-based Joy FM on Monday, 6 August 2018.

"If it comes out that somebody compromised [the system], the appropriate sanctions will be applied. We have done the report and the period in which these things occurred are clearly defined. These things occurred under the administration of some people and once the people have been identified and they are found culpable by the law, the appropriate sanctions will be applied," he added.
Mr Gyasi, however, declined to give specific details as to whether those invited included current or past employees of the Bank of Ghana.