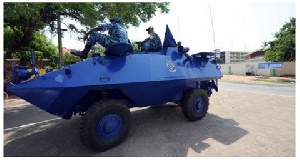 Eastern regional minister Eric Kwakye Darfour has asked police in the region to arrest and put before court all illegal miners without delay.
The regional minister expressed worry that graders outnumber tractors in the region due to galamsey which has destroyed natural resources, costing the nation heavily.

Speaking at the 2017 police get-together (WASSA) at the forecourt of the Eastern Regional Police headquarters at Koforidua, Dr Darfour urged the police not to treat illegal miners with kid gloves.

Meanwhile, Minister of Lands and Natural Resources, Peter Amewu, has said any earth-moving equipment seized by the state from illegal small-scale miners must be "blown up".

The Minister, who has launched an onslaught on illegal small-scale miners since he took office, told Kojo Yankson on Accra-based Joy FM's Super Morning Show on Thursday, 6 April: "It has been established that more than 60% of the earth-moving equipment brought into this country are…up there deep in the forests excavating. I'm not a fan of going to seize an equipment and keeping it; if you seize an equipment, you blow it up.
"How do you take cocaine and say you are keeping it? You must destroy it for the public to see that it is a wrong thing. What is happening is not different from an illegal trade."

Mr Amewu, who has given a three-week ultimatum to the galamseyers to cease all operations or get flushed out, said the Akufo-Addo government has a three-pronged strategy toward dealing with the menace.

"…We've started with diplomatic talks with the various foreign countries involved in it. That will be followed by a media and public advocacy which will continue for about five years. What is going to follow this advocacy and the diplomatic approach is going to be a combative and militant approach to get them out of their areas of operation," he explained.