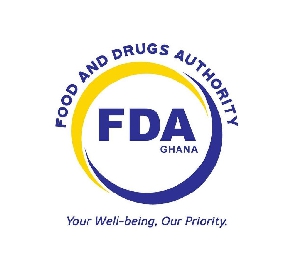 The Food and Drugs Authority (FDA) has joined the bandwagon of state institutions that become aware of their duties only when something in their purview goes wrong.
It is now saying it will sanction media houses that promote unapproved medicines as part of measures to ensure public health and safety following a public forum on 'Media and Herbal Medicine Advertising' organised in Accra to announce an exposé on a non-existent herbal medicine by Fourth Estate, an investigative project of the Media Foundation for West Africa (MFWA), a non-governmental organisation.

It is recalled that in that investigative undertaking, the Fourth Estate created a non-existent facility called Krodwewa Herbal Centre, which was claimed to prepare a 'herbal medicine called Macofa Herbal Mixture to cure all menstrual problems, infertility, and impotence, as well as increase the libido of both men and women.

Then supposed officials of Krodwewa Herbal Centre decided to advertise their fake product, obviously for patronage.

It is sad to hear that out of eight leading media houses in four regions across the country approached to promote the fake and non-existent herbal product, only two, New Times Corporation (NTC), the publisher of Ghanaian Times and The Spectator; and Accra-based Peace FM, took due steps to ensure its authenticity.

In other words, the supposed officials of Krodwewa Herbal Centre succeeded in advertising the non-existent product and had positive feedback that showed that if the 'centre' had presented a concoction to the public, it would have made some gains but to the hurt of the public health and safety.
The whole situation questions the activeness of the monitoring team at the FDA, if any.

The FDA is either guilty of negligence or a lack of zeal to cover all the aspects of its mandate.

We do not want to mince words about our position because such lapses in the regulatory duties of the FDA can seriously undermine public health.

However, we commend the FDA for positively reacting to the Fourth Estate exposé and is now beginning to fulfil its duties to the public as expected.

We are happy that the FDA does not have to wait for a law to be enacted because it has Section 129 of the Public Health Act, 2012 (Act 851) to fall on to apply sanctions against media houses that prove themselves recalcitrant and lawless by promoting unapproved drugs.
Act 851 revises and consolidates the law relating to public health to prevent disease, promote, safeguard, maintain and protect the health of humans and animals and to provide for related matters, and its section 129 prescribes the relevant penalties or sanctions.

We are happy to hear that the FDA is determined to promote public health and safety at all times by applying administrative charges and legal sanctions against media institutions that promote unapproved products.

It is also appropriate the FDA is reminding the media and the general public that sections 100 and 144 of Act 851, and the FDA guidelines for advertisement of regulated products prohibit any unapproved advertisement of FDA-regulated products.

But whose duty it is to monitor the scene and crack the whip?

We encourage the FDA to avoid lip service and pursue all the necessary actions to protect and enhance public health and safety, which is its cardinal duty.