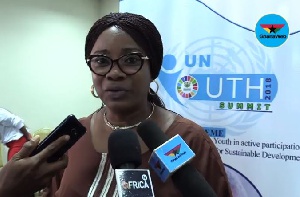 Cynthia Morrison, Minister for Gender, Children and Social protection has called on parents and guardians to talk to their children about their sexual orientations to enable them identify persons with bad intentions.
She said it was vital for them to teach the children to know that their bodies belonged to them and anyone who touched certain private parts had violated them; "we need to talk about this holistically."

She said educating children would help them stay away from negative sexual orientations, influential images and videos propagated through social media, cartoons and other medium accessible.

She said this in an address at a forum held in Accra to celebrate the 6th Anniversary of the 'National Coalition for Proper Human Sexual Rights and Family values' and the Second edition of its National Dialogue Series.

The event was on the theme; "Eliciting a comprehensive National and Pan Africanist Response to the Lesbian, Gay, Bisexual, Transgender, Queer and Intersex (LGBTQI) Phenomena."

She said the government's stance in this matter is No, and there was no way by which the President together with his leadership were going back on their promise.
She said children as young as four year olds were already aware of sex and the elderly, community and opinion leaders had the responsibility to teach them the right way to go.

"Let's not hide from the truth our children already know about sex, let's sit them down and speak to them in a language they understand," she said.

She advised parents who found it difficult talking to their children on the subject to engage their pastors, friends or trustworthy persons.

Mr Moses Foh-Amoaning, Executive Secretary, of the Coalition said the dialogue series was aimed at developing a holistic national policy response to the LGBTQI phenomenon and to provide a policy and legal frame work to guide public and private institutions as they related to the phenomenon.

He said dialogues provided opportunities for the provision of coherent Afro-centric response to the LGBTQI propaganda to be transmitted to the children, youth and adult population of the country and continent.
He said the coalition together with some academicians and researchers had put together a proposed Afro-centric Sexuality Education (ASE) frame work which seeks to reflect the Ghanaian and African cultural values on sexuality in the educational curriculum.

Professor Dandy George Dampson, Head of Curriculum Department, University of Education Winnieba said the ASE framework sought to teach early grades on topics, which covered knowledge of their body, appreciation identity, skills in personal care and communication skills.

He said the upper primary would be taken through knowledge of personality, appreciation of place and social networks, skills in caring for family and friends; "at the Junior High School students would be though on Human Reproduction, Appreciation of Sexual choices, making rational sexual decisions and skills in caring for HIV/AIDS victims,"

He said the senior High School curriculum would inculcate the ability to justify and culturally appreciate forms of sexuality, skills in peer education and redefining gender roles.