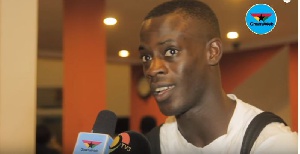 Black Stars midfielder, Edwin Gyasi left the Cape Coast Stadium a fulfilled player after a resplendent performance.
The Norway-based player crowned his efforts with the equalizer which cancelled the Egyptian's lead with a solo run via a deflection, after three minutes in the last World Cup qualifier.

It was his first goal for the national side, his first full throttle and hoping to achieve more for the Stars-qualifier for the 2019 Nations Cup and the 2022 World Cup.

The Aalesunds FK man said in a telephone interview yesterday that his feat has earned him praise from club and country, and has promised to work harder.

The calm midfielder believes, in the current Black Stars set up, lies great players to go places in future.

"I was extremely happy when l scored, l didn't know where l was going. The feeling was great I couldn't believe I scored, I will work harder moving forward.

"It was great, was really nice, eh… yea, I mean being in the starting eleven, I hope this will not be the last time, was amazing for the Black Stars. I want to win trophies- Nations Cup, with the team. The coach told me he was proud of me.
And responding to who he looks up to among the Kwasi Appiah men, he said "Eh… Baby jet, It's Gyan, he has told me to be more confident, play my game, smile and approach every game with seriousness. "

Gyasi, born to Ghanaian parents in Holland 26 years ago, chose Ghana over the Dutch national team.

"I feel more Ghanaian than a Dutch so l didn't hesitate when my dad advised l play for Ghana."

He debuted in the 5-1 thumping of Congo in Brazzaville.

Gyasi, has since left for his Norway base.