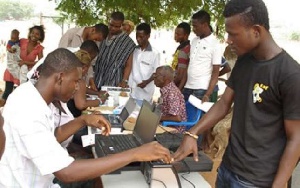 The low turnout in the just-ended exercise to re-register persons removed from the electoral roll for using National Health Insurance Scheme (NHIS) identification cards to register as voters in 2012 in the Effutu constituency could be attributed to the lack of interest in elections among the voters, Philomena Adusei, Central Regional Director of the Electoral Commission (EC), has said.
Speaking in an interview with Chief Jerry Forson, host of Ghana Yensom on Accra100.5FM Monday August 1, Mrs Adusei revealed that out of the 14,800 names of 'NHIS voters' whose names were deleted in the region in accordance with the Supreme Court order, a little above 5,000 of them submitted themselves to be re-registered, an indication that a huge number of them will be disenfranchised in this year's elections.

She said: "The publicity of the event was enough but the people were just not interested in re-registering. Some of them have lost interest in voting; therefore, they did not see the need to re-register. People have varying reasons for registering, some not for voting purposes."

Meanwhile, the Member of Parliament for the area, Alexander Afenyo-Markin, has accused the EC of deliberately deleting names of voters in his party's stronghold in the constituency.

Speaking to Class News' parliamentary correspondent, Ekow Annan, last week, the lawmaker said the deletion had targeted supporters of the NPP. He has, therefore, petitioned the EC to extend the date for the registration to avoid disenfranchising his party members.
"…Now, the political side of this matter is that my friends on the other side, my main opponents, are not so interested in what is happening in Effutu with respect to this re-registration. Why? Because, practically, as politicians, we all know our strengths and weaknesses. These affected areas are areas that I win my most votes," he explained.

For instance, in Kojo Badu North, I win over 70 per cent of the votes in that whole stretch. There is only one polling station which is out, that is New Winneba, where I lose or my party does not do well. If they get 200, we get 100, and at that place, not a single name was deleted.

"Yet, I, then as a candidate, registered people for NHIS cards and I know that they used it to register because I was previously a presiding member and an assemblyman and the terrain is well known by me. So it's a bit curious. But once again, we know when to pick certain fights.

"I don't want to go there for the time being. If you come to Sankor Don Bosco, where in Winneba it is known as the World Bank of the NPP, my party wins 80 per cent minimum in all elections since 1992 and that is where you have over 954 people deleted."