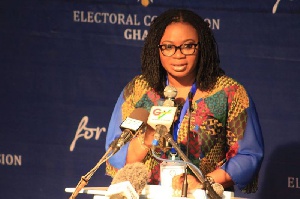 The vice president of IMANI Africa, Kofi Bentil, has extolled the competence of Charlotte Osei, the chairperson of the Electoral Commission, saying she will deliver in the forthcoming elections.
He thus urged Ghanaians to support her as her position is a "tough one".

Mrs. Osei since her appointment as the chairperson of the country's electoral management board June 2015 has received barrage of stern criticism from the public, especially from the opposition New Patriotic Party (NPP) - during press conferences where her competence was questioned.

Some in their heightened criticism of Mrs. Osei alleged that she traded sex for the job and chief among them is the NPP's Member of Parliament for Assin North, Kennedy Agyapong.

He later explained that the said comments he made during his address of NPP supporters in the Ashanti region were jokes.

However, it is not far-fetched for the public to question the competency of Mrs. Osei owing to some intransigent positions she has taken since her appointment.
This, according to Mr. Bentil, who was speaking on Starr Chat Wednesday is attributable to the general distrust of the electoral process and between the EC and the political parties, especially the NPP.

Asked by the programme host, Nana Aba Anamoah whether Mrs. Osei is doing a great job since her appointment, Mr. Bentil replied in the affirmative, saying "Charlotte is a very competent woman; she is very tough [and] I think she can do a very good job."

He, however, pointed out that he can pretend to know what is in Mrs. Osei's heart, but if he is to rate her based on what he knows about her "she will do a great job."

"It is just that, that position is so tough, it will be almost impossible to please everybody. Not everything she has done has made me happy, but the latest set of things she has done make me very, very happy," he said.

"And, I do think - the short answer is that Charlotte can and will do a good job. We must allow her," he added.