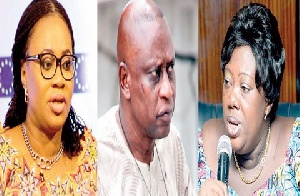 The petitioners, who initiated the process to remove Electoral Commission (EC) chairperson Charlotte Osei from office, are expected to hold a news conference in Accra today.
An invitation letter copied to DAILY GUIDE indicates that the petitioners are expected to comment on what actually transpired during the hearing of the five-member committee established by the Chief Justice.

The Chief Justice, Sophia A.B. Akuffo, established a prima facie case against Mrs Osei in accordance with Article 146 (4) of the Constitution and subsequently set up the committee, which was presided over by Justice Anthony Alfred Benin of the Supreme Court.

Other members of the committee included Justices Samuel K. Marful-Sau and Agnes Dodzie, both of the Appeal Court, as well as Welbeck Abrah Appiah, a renowned banker and former Chief Executive of the Ghana Premier League Board (PLB), including Rose Karikari-Annan, a former Executive Secretary of the Ghana Employers Association.

The committee, in its report, captured serious breaches of procurement laws and recommended her dismissal alongside the two deputies, Amadu Sulley, in-charge of Operations, and Georgina Opoku-Amankwa, in-charge of Corporate Services, on grounds of "stated misbehavior and incompetence."
DAILY GUIDE understands that the petitioners, who are all members of staff of the EC, are likely to formally petition the Special Prosecutor, Martin Amidu, to commence criminal investigations into the activities of the sacked EC boss over alleged corruption and malfeasance.

They are likely to expose more rot at the EC during the tenure of Mrs. Osei.

Since her dismissal, the sacked EC boss has been playing victim, appealing to the emotions of Ghanaians, but the petitioners are expected to present documents to debunk her assertions.

The two deputies of Charlotte Osei, Georgina Opoku-Amankwa and Amadu Sulley were also removed through a petition by an NDC surrogate, Emmanuel Korsi Senyo.