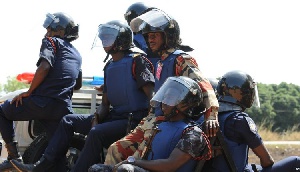 Fri, 27 Sep 2019 Source: Daniel Kaku
A total number of six hundred and seventy-two (672) delegates making up NPP's electoral college in Ellembelle Constituency are set to elect their 2020 parliamentary candidate tomorrow but under heavy security.
The New Patriotic Party is set to conduct its parliamentary primaries in almost all orphan Constituencies in the country tomorrow (Saturday, September 28, 2019).

In Western Region, the party is conducting the parliamentary primaries in four Constituencies out of the seventeen Constituencies.

The four Constituencies are; Ellembelle, Amenfi Central, Amenfi East and Amenfi West.

Since 1992, the NPP has not won the Ellembelle parliamentary seat before, except on an alliance.

The seat, which slipped from the Convention Peoples Party (CPP) is currently being occupied by Emmanuel Armah Kofi-Buah, an NDC MP who annexed it in 2008.
The current District Chief Executive (DCE) for Ellembelle, Kwasi Bonzoh has been running unopposed for the NPP since 2012, but this time around, he is facing tight competition.

Meanwhile the party will be going into this crucial polls with 122 polling stations.

Nkroful Agriculture Senior High School's (NASS) 5000-capacity auditorium is the venue for the primaries.

Some political pundits in the area have predicted a slim margin victory for the female aspirant, Anna Akaisi Horma Miezah.

Given the breakdown of the delegates who are expected to cast their votes on Saturday, the Constituency Communications Director, Amartey Amonle said six hundred and ten (610) polling station executives would exercise their voting rights.
He continued that sixteen (16) Constituency Executives, thirty-six (36) Electoral Area Coordinators, five Council of Elders and five Patrons would also vote.

He, therefore, emphasized that voting would start at 9:00am and close at exactly 3:00pm with two polling stations (voting centers).

He also noted, accreditation will be given to all delegates after registration, hence any other person without accreditation will not be allowed into the auditorium.

The Communications Director cautioned those who have hatched plans to bring disturbances to the venue to desist from that, adding that the Ghana Police Service promises to provide massive security protection to all delegates and other observers.

He continued, the party's internal security would complement the Ellembelle District Police Command to provide two barriers at the entrances of the venue Nkroful Agricultural Senior High School.
"The Ellembelle Constituency Parliamentary Committee has tasked its internal security to compliment the Ellembelle District Police Command to ensure safety for everybody. They will mount two barriers at the School's entrances", he stated.

"Only delegates will be allowed to enter and former Constituency Executives and also the media with proper accreditation. We are doing this to protect everybody and I will call on everybody to comport himself or herself", he added.

He seized the opportunity to wish all the three aspirants success in their quest to lead the party to wrestle the Ellembelle parliamentary seat from NDC's Member of Parliament, Emmanuel Armah Kofi-Buah in 2020.

He said their main objective is to elect a well marketable candidate who can floor Armah Kofi-Buah in 2020 parliamentary elections.

He also took the opportunity to hail the aspirants for conducting themselves well before, during and after campaigns.
The Communications Director advised the winning team to be modest in their celebration so the party does not go into the elections in 2020 with the divided front.

Some security experts have however declared Ellembelle Constituency as a violent prone area and therefore expressed happiness that heavy security team has been dispatched to the voting centers.
Source: Daniel Kaku