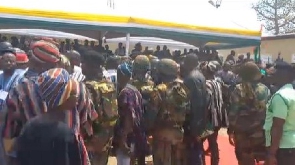 Vice President Dr Mahamudu Bawumia and ex-President John Dramani Mahama were in Damango, a suburb of the Savannah Region, for the enskinment of the new Overlord of the Gonja Kingdom, Yagbonwura Bii-Kunuto Jawu Soale, on Monday, March 20, 2023.
Also, present at the event were the parliamentarians for the Savannah Region, including the Member of Parliament for Damongo, Samuel Abdulai Jinapor and his brother the Member of Parliament for Yapei Kusawgu, John Jinapor.

Social media users, reacting to a viral video from the event, are saying that former President Mahama was booed at his own home region. But who exactly were the jeers aimed at?

The viral video which has been sighted by GhanaWeb showed a section of the crowd at the event hooting as Mahama was descending from the stage, he was on together with other dignitaries including Vice President Dr Bawumia and the Jinapor brothers, to address the crowd.

The persons who were hooting, even though were a small section of the crowd, could be seen clapping and screaming "away, away, away".

It is not clear why the jeering started but the MP for the Damango could be seen urging the crowd to remain calm.
The hooting stopped and the former president delivered his address amid cheers and applause from the crowd.

His address was followed by that of Vice President Dr Mahamudu Bawumia.

View videos from the incident plus some social media posts shared on it below:


Please watch this clip in detail: JJ was never hooted at in Volta; Kufuor was never hooted at in Ashanti; Atta-Mills was never hooted at in Central; Nana Addo has never been hooted at in Eastern; Someone has been hooted at in his own Gonjaland - Damango. Hmm! pic.twitter.com/m86LpN38kf

— Samuel Koku Anyidoho???????? (@KokuAnyidoho) March 22, 2023
You can also watch this episode of People & Places here:



IB/DO