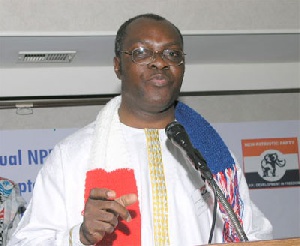 A former flagbearer aspirant of Ghana's biggest opposition party, Dr Arthur Kennedy, is not a member of the New Patriotic Party, a former chairman Harona Esseku has told host of Class91.3fm's Executive Breakfast Show, Ekow Mensah-Shalders on Tuesday.
"Who told you he is a member of our party?" Mr Esseku asked in the interview.

"…As far as I know, we have removed him or he removed himself from the party, and [he's] gone back to his workplace in America doing his medicine.

"Occasionally he comes to the country to create confusion and goes back. He is a Fante and I'm a Fante. I know him very well, he knows me, and he came in and the way we welcomed him as a member, if he had continued to work that way, he will not be where he is, so, as for me, I have taken the view that he is not interested in working for the NPP at a higher level and he prefers his medical job," Mr Esseku said.

Dr Kennedy has always taken a counter position on decisions of the party, the latest being the decision to suspend national chairman Paul Afoko. In one of his recent articles sent to the Ghanaian media from his US base, Dr Kennedy said: "If some in the NPP want to remove Mr Afoko rather than fight the 2016 election, let them follow the procedures laid down for impeachment. A unity fostered by intimidation and fear will never lead to victory."

"Today, I urge all true leaders of our tradition to stand and confront this outrage. Let him proceed to court, not for his own sake but for the sake of our party and its principles," he said.
Meanwhile, Mr Esseku has said Mr Afoko was suspended because he was disobeying the elders of the party.

According to 81-year-old Mr Esseku, who was also suspended as chairman of the party in the past, Mr Afoko disobeyed the elders in the party and also committed certain "errors" which led the NPP to suspend him.

The party's National Executive Committee and National Council upheld a recommendation by the Disciplinary Committee to suspend Mr Afoko almost two months ago.

His suspension has worsened divisions within the party. It led to the murder of a party member in Asawase a few weeks ago when pro-Afoko party members clashed with supporters of flagbearer Nana Akufo-Addo.

Though suspended, Mr Afoko maintains he is still the legitimate chairman and has challenged the processes used to suspend him describing them as illegal. He recently expressed his intentions to take the matter to court.