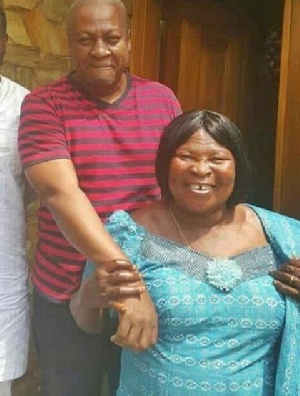 Ama Yeboah, who recently caused the arrest of Akua Donkor over a land issue, has blamed ex-President John Mahama for her predicament.
Miss Yeboah said the incident occurred about seven years ago but she could not get the police to arrest Akua Donkor because the former president was in office at that time.

According to her, Akua Donkor wielded enormous political power and was protected by ex-President Mahama during the NDC administration.

Ama Yeboah earlier this week caused Akua Donkor's arrest for defrauding her to the tune of GH¢10,000 over a land she sold to her.

She told the media that but for ex-President Mahama, she would have caused the arrest of Akua Donkor a long time.

Ama Yeboah said President Mahama's stay in political office shielded the foul-mouthed politician.
"She walked freely for years. This is a woman, who constantly said publicly that President Mahama was her first son and indeed the then president displayed much love to her".

"Clearly from indications, getting Akua Donkor arrested during the NDC regime for land fraud wouldn't have been possible," she complained bitterly.

She said that though Akua Donkor defrauded her several years ago, she waited for a change in political leadership before getting her arrested.

"I could not get her arrested despite my efforts because John Mahama, who was then the president, was Akua Donkor's son".

"So I decided to wait patiently for years and prayed fervently for a political change, which finally arrived last year, so I caused her arrest".
Ama Yeboah said some people chased her from the land sold to her by Akua Donkor some years.

She said she would push for the law enforcement agencies to make Akua Donkor refund her money.

Akua Donkor, who is the leader of the Ghana Freedom Party (GFP), was granted bail by the police after she was arrested for fraud.

Interestingly, instead of responding to allegations being made against her by the complainant, Akua Donkor rather accused the NPP administration of trying to dent her image.

Akua Donkor said on radio in Kumasi that the lady made the false case against her because she (Akua) recently attacked DAILY GUIDE.