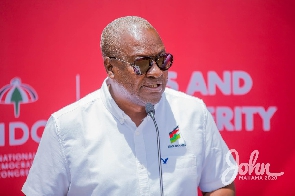 Former President John Dramani Mahama has said the exodus of health and education professionals to seek greener pastures abroad is a sign of national failure.
About 304 health workers including nurses and doctors in the Ashanti region abandoned their jobs and left to seek greener pastures abroad in the first quarter of 2023, according to the regional Health Director, Dr Emmanuel Tenkorang.

Speaking at the Tertiary Education Institutions Network (TEIN) Alumni Connect programme at Kwame Nkrumah University of Science and Technology (KNUST) held on Saturday, July 8,2023, the flagbearer of the National Democratic Congress (NDC), noted that these professionals find attraction in earning far more than they do in Ghana irresistible and called for the need for the situation to be reversed.

"No measure of confidence," he said, "can be placed in Akufo-Addo and Bawumia's government to be able to do it."
He said only a change of government in the 2024 general election can result in a change of the situation.

He also lambasted the government for the high unemployment rate and its failure to provide the needed resources to schools and poor industrial relations with teachers and lecturers and other stakeholders.

Commenting on the unpaid arrears of the Buffer Stock Food Suppliers and the NABCO trainees, the former president said the monies spent by the government to buy votes in the Kumawu and Assin North by-elections could have been used to clear the arrears.