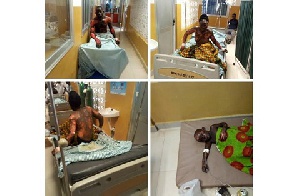 A 42-year-old farmer, Mr. Alhassan, and his entire family got burnt by fire at their house at Kotito, a farming community around Damongo in the West Gonja District of the Northern Region.
Four family members were severely burnt by the fire and are in critical condition currently.

The cause of the incident was not immediately known as at the time of filing this report.

Mr. Alhassan, with his two sons and wife, has been rushed to the Tamale Teaching Hospital (TTH) for immediate medical attention.
Some residents expressed their frustrations about the lack of ambulance service in the West Gonja District.

The family had to be transported to the TTH by an ambulance which came all the way from the Sawla Tuna-Kalba District.