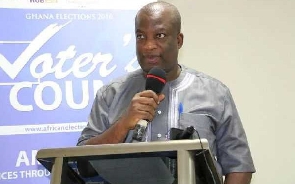 The Electoral Commission of Ghana (EC) has responded to critics that the appointment of alleged NPP activist Dr. Peter Appiahene is to influence the outcome of the 2024 elections.
Director of electoral services at the EC, Dr. Serebour Quaicoe, who denied ever meeting with Dr. Appiahene, insisted that the independence of the commission will not be comprised.

"I don't know him and I have never met him before. I also don't know if he is an NPP activist or not. Besides, the videos you are showing could be photoshopped so Ghanaians must hasten slowly in their conclusions," he said.

Civil Society Organizations and some political parties have raised concerns over the appointments of Dr. Appiahene which they believe could further undermine the credibility of the commission and deepen the mistrust some Ghanaians have about it.

But, Dr. Quaicoe asked Ghanaians not to worry, arguing that as a commissioner, Dr. Appiahhene, will not be able to influence the outcome of any results.

"Assuming he (Dr. Peter Appiahene) is a TESCON patron, he can do nothing to change the electoral results. So, we should dismiss the fear that he can manipulate electoral results," he told the Morning Show host of Kumasi-based Oyerepa TV, Kwesi Parker-Wilson.

Dr Quaicoe further observed that the president has the prerogative to appoint any Ghana to serve as an EC commissioner and members of the commission cannot challenge the president's decision.
"How can a son question a father's decision to marry another woman," he quizzed.

President Nana Addo Dankwa Akufo-Addo, on March 20, 2023, swore in three new members of the Electoral Commission (EC) governing board.

They included Rev. Akua Ofori Boateng Salima, Ahmed Tijani, and Dr. Peter Appiahene.

Their appointment is in line with Article 43 (1 and 2) of the 1992 constitution which states that "there shall be an Electoral Commission which shall consist of a Chairman, two Deputy Chairmen, and four other members".

Watch the interview below:


Watch the latest edition of People & Places below:





AE/OGB