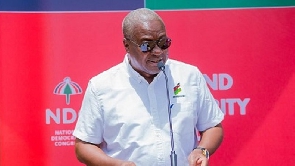 Former President John Dramani Mahama has asked God to give Ghanaians hope with his redeeming blood during the Easter festivities.
He also prayed to God to inspire Ghanaians to love one another as Christ loved everyone.

This was contained in the Easter message he posted on his official Facebook page.

"Happy Good Friday to all Ghanaians. As we commemorate this holy day, may the ultimate sacrifice of Christ who gave His life for our sake guide our journey on earth and instil in us the power of forgiveness and compassion".
"May His redeeming blood fill us with hope, joy and peace, and inspire us to love one another as Christ loved us".

"May our Lord's sacrifice of love and compassion for humanity reflect in our actions," he prayed.