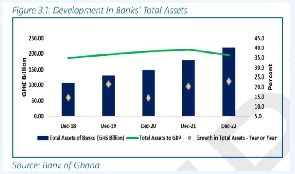 The nation's financial sector assets' value in nominal terms has almost doubled – recording a growth of 94.96 percent between the end of 2017 and 2022; a period marked by sector clean-ups, the COVID-19 pandemic, Domestic Debt Exchange Programme (DDEP) as well as recapitalisation of institutions in the sector.
This was contained in the Ghana Financial Stability Review dubbed 'Managing financial stability risks in the midst of a difficult macroeconomic environment and Domestic Debt Exchange Programme', released by the sector's various regulatory authorities based on audited and prudential figures from 2022 to end first-half 2023.

The report published by the Financial Stability Council – comprising the Bank of Ghana (BoG), Securities and Exchange Commission (SEC), National Pensions Regulatory Authority (NPRA) and National Insurance Commission (NIC) – showed that the metric had grown from GH¢160billion at end of 2017 to GH¢312.69billion at end of last year.

The 2022 figure was 20.07 higher than the GH¢260.43billion recorded at end-December 2021, with growth broadly recorded across various sectors.

In 2022, the insurance, banking and pensions sectors experienced notable increases of 22.3 percent, 21.7 percent and 19.9 percent respectively during the year 2022. However, the securities sector was an exception, with its total assets declining by 2.7 percent year-on-year.

There was also a marked decrease in the sector's assets to Gross Domestic Product (GDP) ratio, which dropped to 51.2 percent at end-December 2022 – down from 56.4 percent in 2021.

This decline in the assets-to-GDP ratio was primarily attributed to mark-to-market losses in government bond holdings stemming from the DDEP. These losses contributed to comparatively lower growth in the financial system's total assets for the year 2022.
Banking industry

The banking industry, often regarded as the financial sector's cornerstone, closed 2017 with total assets of GH¢110.72billion. This figure grew to GH¢238.72billion at the close of 2022, mostly on account of increasing deposits.

Over the period, year-on-year asset growth rates averaged 15 percent while the industry had an average 41.3 percent share of Gross Domestic Product (GDP) and an average 74.6 percent of the entire sector's assets. It's share of the sector's assets at the end of 2022 stood at 76.5 percent.

Securities industry

The securities sector, as measured by assets under management (AUM), witnessed a fluctuating pattern during the period under consideration. While AUM (excluding pension funds) experienced declines in 2018 and 2019, on account of some firms' licenses being revoked. However, it rebounded in subsequent years – growing by 77.44 percent in 2021 to GH¢14.77billion.

However, the sector reported a dip of 2.71 percent for AUM in December 2022, as mark-to-market losses, among others, took a toll.
Including pension funds, the total AUM reached GH₵49.5billion by end of 2022. Nevertheless, the AUM-to-GDP ratio (excluding pension funds) remained modest at 2.4 percent for end-2022. The securities sector's share in the financial system's assets stood at 4.6 percent in 2022.

Insurance sector

The insurance sector demonstrated consistent growth over the years, with total assets reaching GH¢12.24billion in December 2022 from GH¢4.65billion in 2017.

The sector's assets averaged two percent of GDP during the period under review, while its share of the financial sector has grown steadily from 2.9 percent in 2017 to 3.9 percent at end of last year.

In 2022 the insurance industry saw a 25 percent growth in gross premiums, reaching GH¢6.56billion. This growth was attributed to the NIC's digital efforts and upcoming Motor Insurance Database and Marine and Aviation Insurance Database (MAID), with the Minimum Capital Requirement (MCR) increase by the regulator also expected to strengthen the industry and boost the insurance penetration rate – which has remained at 1 percent over the past half-decade.

Retention ratios slightly dropped in non-life and life sectors, but remained within reinsurance guidelines. Non-life went from 70 percent to 68 percent, while life was at 88 percent.
Pensions industry

The pension sector's share of assets has steadily increased over the period, driven primarily by significant growth in private pension funds. Total assets grew from 20.77 billion in 2017 to 46.61 billion by end of last year.

At the close of December 2022, the industry's assets-to-GDP ratio stood at 7.6 percent and accounted for 14.9 percent of the financial system's assets.

In 2022, the pensions industry's AUM for the 3-Tier Pension Scheme at end-December 2022 was GH¢46.6billion compared to GH₵39.6billion in 2021; marking a 17.7 percent increase (compared to 18 percent in 2021). This growth was attributed to increased contributions due to efforts at holding defaulting employers accountable and higher enrollment.

Total private pension funds increased by 23.1 percent in 2022 compared to 27 percent in 2021, reaching GH¢34.5billion at year-end 2022. The slower growth in private pension funds was influenced by a negative return on investments with a focus on government securities, making up 86 percent of investments.

Interconnectedness
The regulators stated that they have been paying rapt attention to the financial system's interconnectedness to identify systemic distress.

"A key characteristic of a developed financial system is the level of interconnectedness within and across the financial system's various sectors, as it enhances the flow of funds in an economy. Also, interconnectedness of financial institutions provides means of diversifying risk and sharing of technological infrastructures among financial agents… financial sector regulators have intensified the monitoring of interlinkages in the financial system to provide insights on the degree of concentration and sources of distress that can be of contagion effect," a portion of the report read.