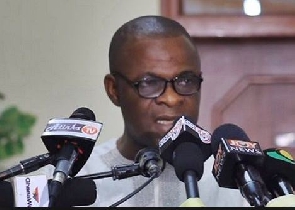 The Ghana Police Service must scale up its efforts to rescue the three kidnapped girls in Takoradi, Western Region, in order to restore public confidence in the service, COP Bright Oduro, a former Director-General of the Criminal Investigations Department (CID) of the Ghana Police Service, has said.
Recently, the Director-General of the CID, Mrs Maame Yaa Tiwaa Addo-Danquah announced that the three girls had been found.

At the press briefing, she said after months of painstaking investigations, together with the Bureau of National Investigations (BNI), the CID had been able to find the location of the three girls who were all alive and well.

She appealed to the distraught families of the victims to "keep on keeping on".

Since that announcement, however, Mrs Addo-Danquah has received a barrage of public backlash.

Speaking on the issue on Ghana Yensom on Accra100.5FM on Friday, 10 May 2019, COP Oduro said: "If we are able to rescue these young girls from wherever they are, it will restore some confidence in the police.
"Regarding robbery and killings also, if the police live up to expectation and deal with them, it will restore confidence."