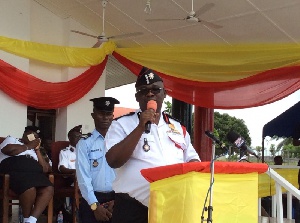 The Chief Fire Officer at the Ghana National Fire Service, Dr. Albert Brown Gaisie has ordered his officers to carry out fire safety audits at all regional and district offices of the Electoral Commission across the country.
The exercise, is to ensure safety standards at the EC offices as the election management body prepares to conduct this year's presidential and parliamentary elections.

Dr. Brown Gaisie who was addressing fire commanders and officers at the Volta regional command of the GNFS at Ho, also asked the officers to train EC staff on basic fire precaution techniques to prepare them for any eventuality.

"We're getting closer to the elections and as the institution responsible for public safety, we have a very important role to play. I have directed that you should liaise with the electoral offices to conduct fire safety audit.

"Identify the hazards, look at the risk and give them training as to what they should do in the event of any emergency," he stated.

This directive comes on the back of an inferno which gutted the Ahafo Ano North district office of the EC at Tapa in the Ashanti region in August, which destroyed electoral materials and equipment.
Meanwhile, the Chief Fire Officer has launched the "Home Fire Safety Certification Project" in the Volta Region aimed at reducing domestic fires, which constitute over 90 percent of fire incidents in the country.

The project, which is a Public Private Partnership will see the installation of early warning fire detection systems such as smoke detectors at homes and public places.

According to Dr. Brown Gaisie, the initiative will help reduce the increasing domestic fires and its associated casualties, as "a lot of people die because of the fact that they are ignorant of what to do in case of emergency."

The Volta regional minister, Helen Ntoso also urged the public to adopt fire safety measures and acquire the early warning systems to forestall fire outbreaks in their home.

She also lauded the GNFS collaborating with the regional administration to extend fire service stations from 12 to 22 districts in the region.