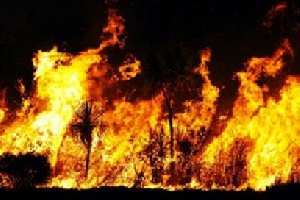 About 10 residents of a compound house near cotton ginnery in Tumu in the Sissal East district of the Upper West region have been rendered homeless after fire gutted the house and reduced everything into ashes.
The unfortunate incident according to Balu Mohammed of Tumu-based Radford Fm occurred at about 10:30pm on Thursday night.

Preliminary investigations revealed that power surge is the cause of the fire as a circuit in the house exploded soon after lights went off and was restored moments later

"Tenants had all their properties including electronic gadgets, clothes, cooking utensils, certificates burnt to ashes. A nurse who was fast asleep almost collapsed after the noise woke her up. She told me all her things have been burnt "
It took the timely intervention of personnel from the Fire Service to douse the inferno and stop it from spreading to close structures.

Residents are however worried over the response time of fire personnel each time such an incident occurs in the area.