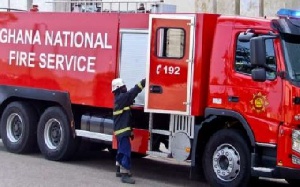 Senior officers of the Fire Service Department in the Northern Region are pushing for the establishment of one district, one fire station across the country.
Speaking at an event organized by Ministry of Trade and Industry in Tamale Thursday, the Sagnarigu Municipal Chief fire officer, Mr. Adogoba Newton, said the devastating effect of fire cannot be downplayed and that government should consider setting up fire stations in all the districts in the country.

He argued that the One district, one factory policy should include one fire station each considering the huge distances between the few fire stations in the Northern Region.
Mr. Newton was optimistic that fire outbreaks can easily be dealt with if the proposal is adopted by the government.